The managing editor of Jewcy is a friend, former co-worker, and fellow Buffy fan, so when she asked me to write something about Willow for their weekly Network Jews feature, I of course said I'd do it.
Usually when I make comics, I write out the copy first. Sometimes that involves scrawling rough ideas over entire pages of carefully blocked-out panels that I had intended to fill with storyboard drawings, and sometimes I sit in front of a Google doc for hours, and sometimes I do what I did for my Willow comic. To see what I mean, here is the first and only rough draft I made: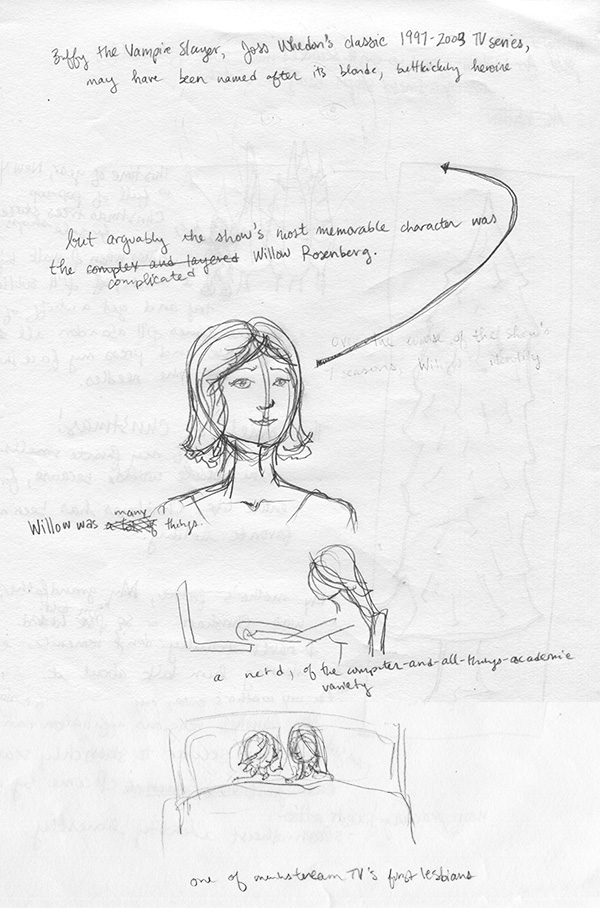 Irritatingly, I actually like the first Willow portrait I drew (above) more than the final one. Sometimes that happens. Oh well.
Anyway, I guess I had been watching a lot of Buffy in preparation for this piece (my fiancé and I are constantly rewatching that show), so my ideas about Willow's relationship to her Jewish upbringing were pretty fresh in my mind—enough so that I could basically just write the whole thing in longhand from beginning to end.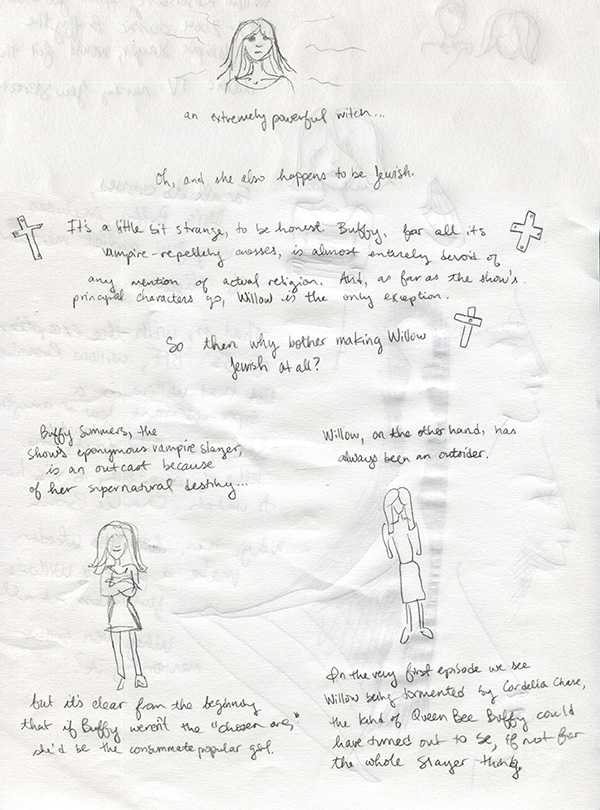 For the most part, anyway. Usually the part of any comic that is most difficult for me to write is the part where I have to get to some kind of "point." Like, it would have been really easy just to list things about Willow and then say, "Oh, and she's also Jewish," but not make any meaningful connections between anything. To a certain extent, that's what I did in my first Kosher Salt comic, which is one of the reasons I don't really like it in retrospect. (Also because, as you can see if you clicked that link, the image quality is absolutely God-awful. But that's besides the point.)
With Willow, I didn't really have any meaningful connections or conclusions in mind when I started drawing the comic, so I just kind of wrote whatever was in my head, and then went back and corrected stuff—by hand—when I decided it wasn't quite right or was actually horrible.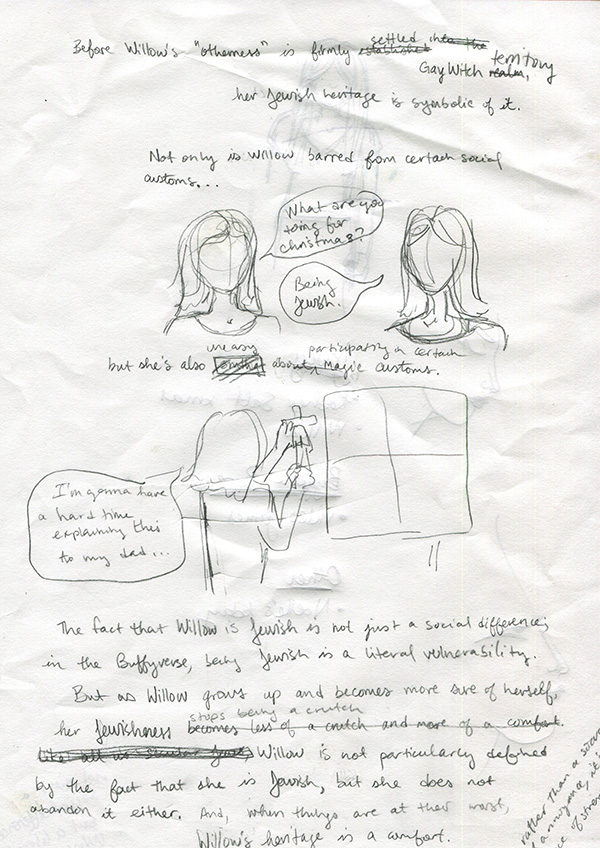 But as you can see, the pictures actually stayed about exactly the same from draft to final piece.
Also, you may notice that I don't have a draft for the final few frames of the comic, when Willow visits Tara's grave, and the final drawing of Willow's hand crackling with magic. It's because I got frustrated with my obviously haphazard above method and decided just to write the rest of the copy into a GoogleDoc, after which point I drew straight into the final draft.
Oh! Another decision I made that isn't evident in these drafts was to color only the characters' hair. Usually I'd reluctantly admit that I did this because it was easier than coloring the whole thing, but in this case it really was totally deliberate. This comic was, first and foremost, a short essay. The focus was supposed to be the words. So I wanted the drawings to complement, but not overpower. Willow's hair is so distinctive that I thought (and I think it worked!) I could make it clear that these were drawings of HER, not just anyone, by only coloring her hair. Then I decided to do the others' too, so it would be clear who Buffy was. After all, these drawings are pretty simple and otherwise it might have been hard to tell…